Are you interested in a partnership?
Are you interested in a partnership with MonoPetro in your town?

Monopetro in Greece
Thessaloniki, 95 Mitropoleos str.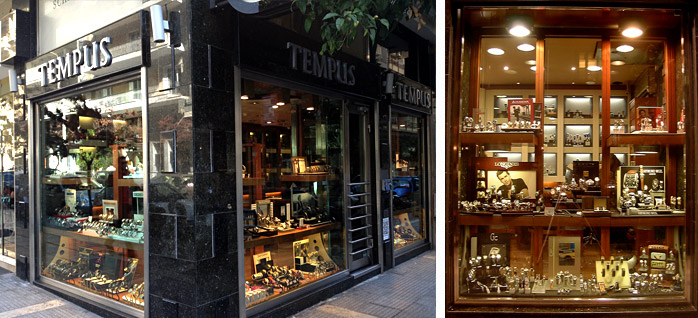 Tempus Jewelry stores are the high-end jewelry shops in Thessaloniki and in northern Greece, where you can find:
Complete collections of famous watch brands that we are official dealers namely:
Omega, IWC, Glashutte, Zenith, Bulgari, Tag Heuer, Longines, Rado, Baume Mercier, Raymond Weil, Gucci, Hamilton, Tissot, Seiko, U-Boat, Hermes, Montblanc, Technomarine, etc
K18 gold jewelry with or without diamonds, necklaces and pendants, spectacular earrings, rings and bracelets all with official certificates (diamonds from 0,20 ct up are exclusively certified with international certificates from GIA-HRD-IGI). We also represent some of the leading jewelry brands such as Damiani, Bulgari Jewels, Staurino Fratelli, Baccarrat, Cucci Jewels, Monopetro Collection, Trollbeads, Saint-Maurice, Antigoni Collection etc.
Furthermore, the Tempus Jewellery is famous for its vast collection of luxury accessories and gifts such as pens and collector's pens, luxury lighters, leather purses and accessories made from exotic leather, men's cufflinks, amber prayer beads and interesting office items. Montblanc, Dupont, Bulgari, Montegrappa are some of the names in our collections that ensure their timeless value. In addition, in our store at 7St. Sophia Street you will find the hi-luxury Tag Heuer mobile phones.
Trendy watches and jewelry (extra fashion)have their special place in our stores, and here are some of the branches on offer: Burberry, Nixon, Suunto, TW steel, Armani, M.Kors, DKNY, D & G, Ice Watches , Nautica, Gant, Marc Echo, Moschino, Ck, Guess.
We provide services and aftersales service for all the above items, plus jewelry and accessories repairs, as well as battery and leather straps changes.
All of our personnel and sales executives at Mediterranean Cosmos store speak fluently English, French, Italian and Russian. Furthermore, we are offering Tax Free shopping services for visitors from countries outside the European Union (even with exemption from the full amount of tax 23%) and all major credit cards are accepted.
The most important element that makes the difference in Tempus Jewellery stores are the people who work in our four branches. People who with a smile and their sincerity are always ready to serve our guests.
Store photo gallery
Brands
WATCHES
Zenith
Glashutte
IWC
Bulgari
Omega
Tag-Heuer
Baume - Mercier
U-Boat
Longines
Raymond Weil
Montblanc
Rado
Oris
Gucci
Hermes
Vostok Europe
Hamilton
Seiko
Tissot
Burberry
Technomarine
Emporio Armani
Suunto
Ingersoll
TW Steel
Marc Coblen
Nixon
M. Kors
Juicy Couture
Marc Echo
Nautica
Guess
CK
Moschino
DKNY
Anne Klein
Ice Watches
Casio

JEWELLERY
Damiani
Bulgari
Gucci
Baccarrat
Trollbeads
Guess

ACCESSORIES
Bulgari
Montegrappa
Montblanc
Dupont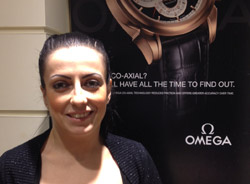 Alitoka Konstantina
is the store manager and will assist you in finding the perfect diamond jewel for you.
Visit us at
95 Mitropoleos str.
Thessaloniki,
Greece
Τel:. +30 2310 264907
Fax: +30 2310 260362 - 280665
info@tempus.gr
Working hours
MONDAY : 10:00 -15:00
TUESDAY : 10:00 -15:00 & 17:00 - 21:00
WEDNESDAY : 10:00 -15:00
THURSDAY : 10:00 -15:00 & 17:00 - 21:00
FRIDAY : 10:00 -15:00 & 17:00 - 21:00
SATURDAY : 10:00 -15:00 & 17:00 - 21:00